Meet our Partner Websites

5 November 2019 | Charlotte
When trying to decide on material for my blogs I always look to a topic that not only represents our products but is also of some interest to our customers and can benefit them when making future purchases. With this in mind, it has become apparent to me that of all the Blogs I have written, I have never introduced our Rapid Address Labels customers to two great resources at their disposal, First for Paper and UK Postal Packaging.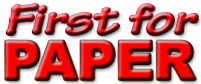 Rapid Address Labels has two Partner Websites, First for Paper and UK Postal Packaging. Both of these Partner sites have strong independent product ranges dedicated to paper and packaging but at the same time hold a mutual relationship with Rapid Address Labels with complementary stocks and associated products that can cover a wide area of applications and help support you either at home or in business.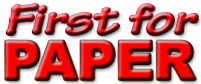 At First for Paper we have over 40 years experience in supplying paper and related products to businesses, craft workers, schools, hobbyists and scrapbookers alike. We supply a vast range of paper and card from White, Coloured, Pearlescent, and Translucent to Textured, Patterned, Carbonless and Recycled. Most of our paper and card is supplied in many popular sizes such as A6, A5, A4, A3, A2, and more, we can also cut to bespoke sizes if required. We also supply and distribute Pre-Creased Cards, Envelopes, Cello Bags, Film Rolls, Adhesives and a myriad of other related products.
As a Rapid Address Labels customer our product range at First for Paper could be of great benefit. For example, maybe you use your personalised labels as a return address for private or business postal communications. Why not take a look at the fantastic range of Papers and Envelopes First for Paper has on offer for all your correspondence needs. Or maybe you use our labels as a craft company to add to your creations and identify your work. First for Paper has a wealth of Pre-Creased Cards, Craft and Hobby Packs, Adhesives and much more. If you order message labels from us i.e 'Fragile' in order to warn of the protection required for your package contents, take a look at First for Papers Padded Envelopes, the bubble lined interior protects your products and the peel & seal strip ensures the item is securely sealed within the envelope.

At UK Postal Packaging we supply companies of all sizes from the smallest to the largest throughout the UK with everything needed for sending goods by Royal Mail or commercial carrier to your customers. Our postal packaging range includes Padded Bags, Mailing Bags, Book Wraps, Postal Tubes and All Board Envelopes to name just a few, all designed to give your orders the necessary protection to get to their destination in good condition. In addition we supply a wide range of sizes of Open Top Polythene Bags, Grip Seal Bags, Paper Carrier Bags and Cellophane Bags.
Why not look at the array of stocks UK Postal Packaging has to offer in order to protect your goods/materials at home in the office or during despatch. Maybe you use our labels to identify food items or display ingredients, UK Postal Packaging has a great range of Open Top Polythene Bags, ideal for food use, with lightweight, mediumweight and heavyweight options available and pack sizes ranging from 50 – 1,000; these multi-purpose bags are an essential packaging product. You could be a customer who uses our despatch labels, UK postal Packaging has a myriad of packaging solutions for a vast array of products along with items like bubble wrap and loose fill, a fantastic way to keep your products preserved and cushioned during shipping.
Whether ordering supplies for crafts, schools or business, First for Paper, Rapid Address Labels and UK Postal Packaging hold materials covering a myriad of applications. Visit our Partner websites, First for Paper and UK Postal Packaging to view our fantastic product ranges.