Message Labels - Warn and Inform.

7 Comments

13 June 2019 |

Charlotte
The first known Message Label appeared around the 1700's on Medical containers and they have been used ever since, growing in popularity and in importance. With Health and Safety precautions being so important nowadays in the workplace and at home to warn and inform is essential. Message Labels are a fantastic way to draw attention to something you feel is important concerning your product or environment.
Here at Rapid Address Labels we can supply you with several types of Message Labels that Warn and Inform. These Pre-printed labels are in large, bold print with slogans and warning messages printed for safety and precaution, available in a range of sizes and on rolls of 500.
'FRAGILE HANDLE WITH CARE' labels ensure your packages are handled with care and correctly in transit, useful for storing or despatching anything with fragile content that is breakable or easily damaged. Items could be anything from Books, Important Documents, frames, cds and electronics to flowers and some food items such as eggs and cakes; the list goes on.
For glass, mirror or ceramic items it is always best to display a 'GLASS' label on any item you despatch to warn the courier that the package is fragile but also lets them know that the package could be dangerous to the handler if damaged unlike say a book or flowers.
'DO NOT BEND' labels are very useful to warn any handler that the package contains important or valuable bendable items such as documentation, maps, artwork or photographs.
With permanent adhesive backing all these postal and envelope labels are easy to peel and stick. Use in your packing areas, postal rooms or at home to help protect your shipments.
All the labels I have mentioned up to this point have mainly concerned themselves with protecting the product contained within the package to be despatched however sometimes it is actually the packaging of a material or product that we need to warn the consumer about.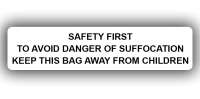 Warning labels such as 'SAFETY FIRST' are highly important for products that are packaged in polythene bags to avoid children from suffocation. Obviously there are numerous factors that will affect how dangerous a bag can be. Is the opening in the bag large enough to fit a child's head, what type of closure does the bag have, thickness and whether or not it contains breathable perforations but generally it is advised to show some sort of warning as to the nature of the material. There are no legal requirements within Europe to display warnings on plastic bags however more likely than not a retailer will request this as a condition of supply in order to cover themselves in case the worst should happen.
Why not visit our website and see if our 'Message Labels' could help you Warn and Inform.