Suitability of Rapid Labels

5 April 2016 | Victoria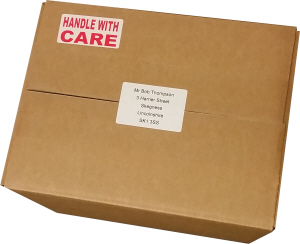 Hello and welcome back to Rapid Address Labels and our blog. Throughout this post I would like to take the time to advise you on the best practical uses for the labels that we supply. Whilst we are very proud to promote our labels as being very good quality and suitable for many purposes I'm sure you can appreciate there are some uses our products are just not recommended for so here is a guide on what we suggest would be the best possible uses of our labels.
Suitable For
Clean, smooth, dry surfaces

Greetings Cards & other paper and card products

Packaging (Cellophane bags, boxes, envelopes etc)

Most types of plastics

Waterproof print allows for use with damp hands. (However, avoid prolonged exposure to wet/dampness to prevent paper labels getting wet)




Unsuitable For
Adhesive will not stick to dirty, greasy or wet surfaces

Avoid use on items subject to continuous handling as friction can cause print to fade. (e.g. Ipads, Phones, Laptops)

Not recommended for permanent use on fabrics. However temporary use may be suitable subject to the type of fabric.
If you are still unsure about whether our labels are suitable for your requirements please don't hesitate to contact our customer support team via our Contact Us page and we will help you with your query.